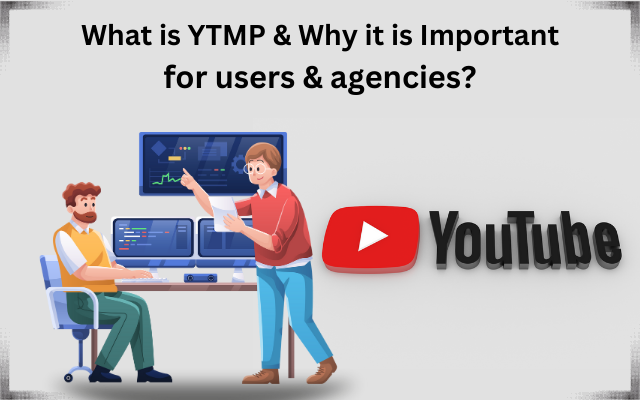 Table of index

Google has made a few notable transformations to the lineup of its YouTube Measurement Program (YTMP) partners, which debuted in 2017. This was done to offer the advertisers access to independent and trusted solutions for tracking and driving the marketing performance of the video site.
Also, Google made some tweaks and changes to how it classifies partners in the YouTube Measurement Program (YTMP) and welcomed new partners to specific categories and partners. YouTube has even made it easier for all the advertisers to search for the right service provider for their requirements.
Let's look at what YouTube Measurement Program (YTMP) is all about.
What is YTMP (YouTube Measurement Program) & why is it important?
YouTube has recently created the YouTube measurement program (YTMP). It mainly features recognized, trusted, and independent companies recommended by YouTube.
YouTube Measurement Program (YTMP) is crucial for all businesses because YouTube vets all the companies. These companies offer the most up-to-date and accurate information about your business' performance on YouTube. The tool utilizes various methods to collect, store, and interpret data.
If you want to make it big on YouTube, you want a trustworthy digital marketing company with a proven track record. The YTMP or the YouTube measurement program does this by personally reviewing all companies, thus offering YTMP certification. You partner with these companies to ensure success.
What about the other service providers?
The list of approved companies is short. There are dozens of other companies that offer similar services. Do they provide a below-average service? Do they have a terrible rapport? Is your data inaccurate?
Take the example of two such popular tools, VidIQ and TubeBuddy. These tools will help you choose the right keywords, write descriptions and tags, and come up with content ideas. They'll help you see what's trending on YouTube and gauge the competition.
However, these tools are not a part of the YouTube measurement program. What might be the reason behind that?
This does not necessarily mean that these tools are inappropriate or retrieve your data. It just means they could not meet the YTMP program's stringent requirements. Maybe these companies have never tried to go for an agreement with YouTube.
Check out the YTMP partners
Let's check out some of the YouTube measurement program partners and find out what makes them stand out in the crowd:
1. Channel Factory
This global technology platform helps improvise videos by enhancing its context suitability and delivery of targeted content to the right audience. Channel Factory mainly specializes in brand suitability. This platform enables you to strengthen your brand and get a higher ROI by ensuring that your ads are shown to the relevant viewers.
2. Integral Ad Science (IAS)
IAS is known for its digital display verification. The company helps advertisers and other content creators gain the technology and knowledge needed to protect themselves from fraud. The end goal here is to come up with profitable campaigns. The focus on every impression by targeting the correct audience ensures that your ads reach the right person. This sounds like a lot of what Channel Factory does, but there is one main difference and that IAS focuses only on "quality impressions."
3. CreatorIQ
CreatorIQ helps find influencers for branded businesses and advertising. It is a one-stop solution for influencer marketing. They have five main product offerings. They include Creator Core, Creator Pay, Creator Connect, and Creator Boost.
How to be certified under YTMP?
When meeting the specific requirements for getting the YTMP certification, the member must meet three criteria. This includes:
(a) Proof of their market demand
(b) Evidence of a positive and robust track record in the entire industry
(c) Continuous compliance with YouTube and Google policies
All the qualified companies meet these requirements. These were some of the crucial metering standards for getting YTMP verified.
Why is the YouTube Measurement Program (YTMP) crucial for content creators?
Google, YouTube, Instagram, Facebook, and all other platforms are consistently trying to get advertisers to choose them. But how can this new measurement program help a particular company? Here are some of the options.
1. Simple competitive analysis
YouTube shows every company they work with. This helps in the proper selection of services as one can easily compare them without searching the SERPs to solve the problems randomly. You can now get an easy view of your competitors and know what they are up to.
2. Ensures data accuracy
YTMP offers the most accurate data across the board. We utilize many tools, and each will tell us a different story. If you're an SEO person, you must probably use Ahrefs and Semrush.
3. End-to-end security
We have tons of data that includes intricate details of our business. If it gets into the hands of the wrong person, it can create problems. YTMP ensures you entrust valuable data to companies that know how to handle it properly.
4. Helps you match with the right company
Businesses today are changing the way they offer services. They are trying to provide a better experience to their customers. Therefore, when you work with a verified partner, you ensure that you are getting a company that meets your objectives and goals.
Closing thoughts
Do you think the YouTube Measurement Program (YTMP) could make a difference in content creation? You are more likely to get a reliable tool that will meet your requirements. Remember that Google and YouTube sometimes give us a little glimpse of how they work. YTMP is for you.
Are you also utilizing any of these companies on the YTMP's approved list? If yes, then let us know in the comment section below.